I am so excited to be bringing you some ideas for last-minute, super easy Halloween fun! Last year, I wrote two posts about Quarantine Halloween – one with lots of ideas for handling trick or treating if you're keeping your social distance with little ones, and one with ideas beyond trick or treating, with lots of other fun ways to have fun. They were two of my most popular posts, so be sure to take a look if you'd like some more inspiration.
This year, I just wanted to "add on" to those posts with a few new ideas for you – several of which I used myself yesterday when we had close friends over for a mini-Halloween "party." I promise, they are all EASY, and I hope they inspire you to make your own Halloween fun this year!
FOOD
I kept our tiny party super simple – one of the hardest things for me is paring down from so many great ideas to make it just a few and much more manageable. I narrowed it down to my top 5 easy-to-execute ideas, and then I let my daughter choose 3.
Ghost String Cheese
I saw these on Pinterest a few days ago, and loved how cute and massively easy this was! Just take some individually wrapped string cheese and a Sharpie and draw little ghost faces on them!
GuacaMonsters
How ADORABLE are these "GuacaMonsters" from Fork and Beans?! I'll admit, on the "easy" scale, if you're a slow chopper like I am, this may me more like "moderately" quick and easy. We didn't have shredded carrots, so I thinly sliced an orange mini bell pepper for the witch's hair, and I wanted to use all of our string cheese for the ghosts above, so I used some Amish cheese curds we had in the fridge for the eyes, which took a tiny bit extra time. But basically, you can improvise and do these however you want – just slice some veggies (bell peppers work great for the mouths, noses, and Dracula's collar), supplement with anything else you have on hand, and have fun!
I used pretzel twists for Frankenstein's Monster's "bolts", and a pitted date for the witch's nose. I sliced and prepped all of the face and hair/head parts first before making the guacamole, so that it would be as fresh as possible. I waited until about 10 minutes before our friends arrived to assemble the GuacaMonsters and viola! They were such a cute addition to our mini Halloween spread.
Ghost Donuts
These are almost as easy as the string cheese ghosts – I even had my almost 7-year-old son take care of this treat for me! He put the powdered donuts out on the platter and placed the chocolate chip eyes on. That's it! Note: I thought we'd need mini chocolate chips, so that's what we bought, but I'm thinking regular-size chocolate chips would have also worked perfectly.
We also served caramel popcorn, sparkling apple cider, and salted caramel fresh apple cider we found by chance at the grocery store (it tastes EXACTLY like a caramel apple!).
Here are two more treats that didn't make the cut this year, but I am sure we will make them sometime in the future!
Ghosts in the Graveyard
Did you know ghost marshmallow Peeps exist? So cute! We couldn't find them at our grocery store, but if you wanted to make ghost cookies or decorate Nutter Butters or regular marshmallows to look like ghosts, that would work too for these adorable ghosts in the graveyard from Organize Your Stuff Now.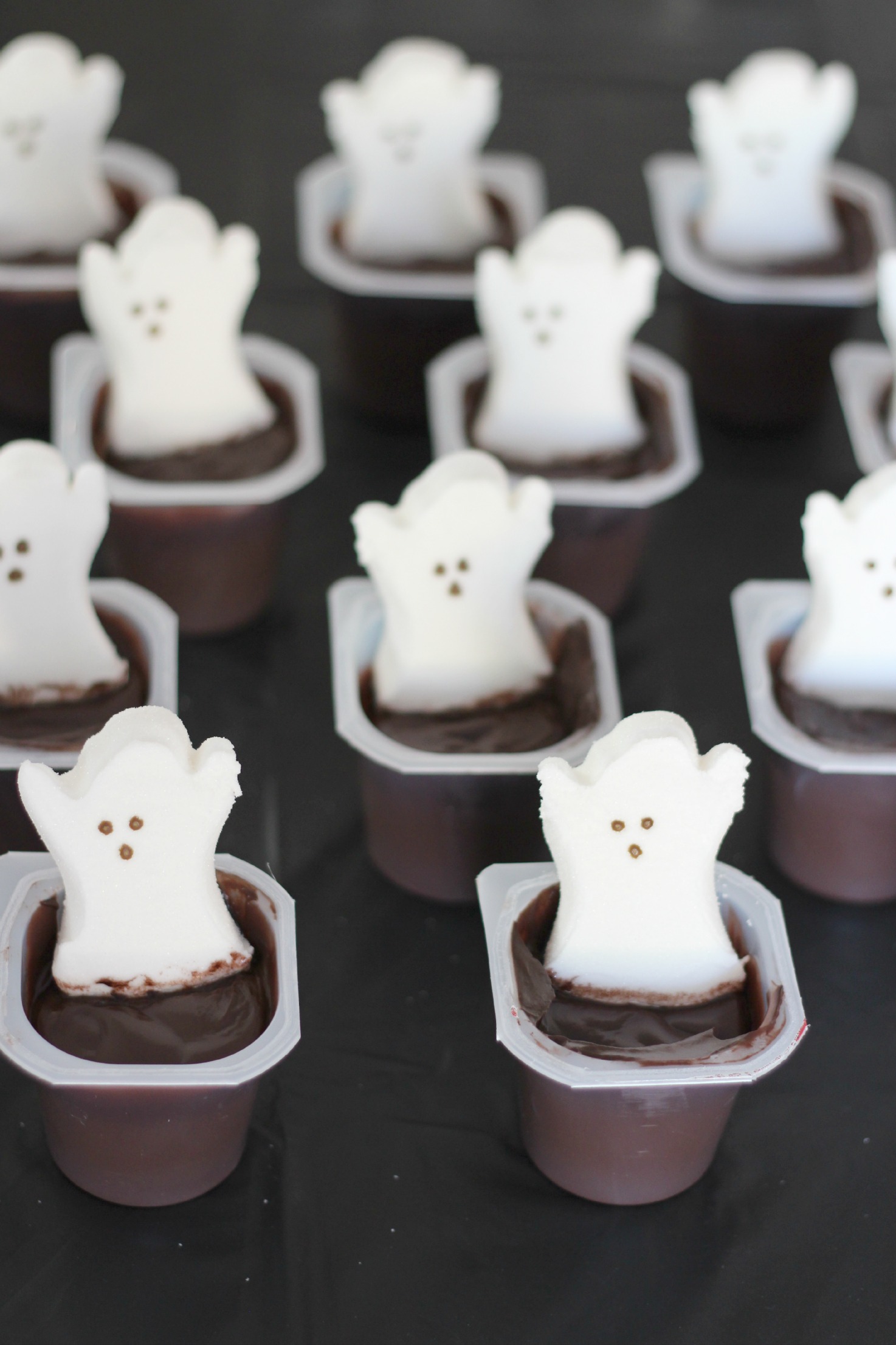 Scary Mouth Snacks
We made these last year – just put peanut butter (or Sun Butter or your "butter" of choice….mmmmm, maybe even cookie butter if you really want to amp up the sweetness level, haha!) on apple slices, and stick mini marshmallows between two slices to make these scary mouth snacks! You could also use slivered almonds (or whole almonds) for the teeth instead of marshmallows.
Pumpkin Krispie Treats
This one didn't make our list this year, but these pumpkin krispie treats from Cooking Classy also seem super easy to make!
ACTIVITIES
Oh, there are SO many fun, easy activities you can do at home for Halloween, but for our mini-party we just chose two: decorating chocolate cookie haunted houses, and creepy-crawly guessing game. For more easy ideas, check out the Activities section of our Halloween Pinterest board!
Decorate Chocolate Cookie Haunted Houses
You probably know all about decorating gingerbread houses, but did you know there are Halloween versions of this too?! I was so excited when we came across these kits at Michael's, that I knew we had to do this for our mini-party. All four kids had so much fun decorating their own house, which we assembled before the party so they didn't have to wait for the icing to dry.
Creepy Crawly Guessing Game
Our family did this last year with just the four of us, and it was a big hit, so I wanted to do it again this year for the mini-party. The basics: Find food that could feel like gross things – we went with body parts, like "guts," "toes," "eyeballs" and more, but you could go with "worms," "bugs," "mud," or other ideas – and put them in bowls or containers. Cover them up with a towel, label them with what they're supposed to feel like, and have everyone feel them (without looking), one at a time, then have everyone share their guess of what they think it actually is. You could also have everyone write down their guesses secretly, but we just went around in a circle to have everyone share their guess verbally.
Here's a quick look at our bowls:
Here's the rundown of what we used this year:
Guts = cooked pasta, with a tiny bit of olive oil added
Teeth = macadamia nuts (we used slivered almonds last year)
Ears (not pictured) = dried apple rings (last year we used dried apricots)
Toes = chopped baby carrots
Bones = Cashews
Eyeballs = fresh mozzarella balls (last year we used peeled grapes, but I thought the fresh mozzarella balls were an even better size for eyeballs!)
Last year, one of the best creepy-crawly items we did was a canned, peeled whole tomato for a "heart". But it's a little messy and I was trying to keep the mess level very low, so I opted not to do that this year. Check out our Pinterest board for some other takes on this creepy crawly game!
Other Activities
Take a look at our Pinterest board for more activity and craft ideas – here are some of my favorites:
---
I hope this inspired you to create some EASY Halloween fun for yourself this year. I'd love to hear if you tried any of these ideas and how they turned out. Happy Halloween!